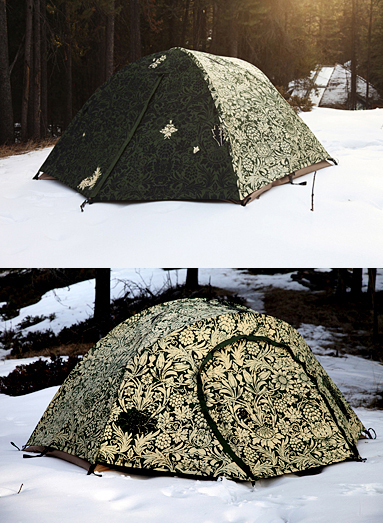 WORKING CONTEXT
This is an image of a USMC Personal Combat Tent with serial # 0256551. Upon it I have applied William Morris's Sunflower wallpaper design.

Seeing the conception of wilderness as essentially a construction of cultural fantasy, I have been immersed in a search for traces of rational presence within natural phenomenon. Through this research and the development of re-constructed objects, filmic and mechanical events and photographic documents, I work to fabricate artificial narratives around themes of wildness and the atmoshere of wonder that often envelopes it. This work locates something outside of culture and by using the instruments, technologies and constructions of this same culture, each project becomes an environment through which to explore the emergence of new natures – subjects, phenomenon, physical events that are in a process of transformation as the systems and conditions that I establish within each project, work to generate new contexts and events. Photographic and sculptural forms become a cohesive map that one might use to decipher and re-form sites located within the seemingly chaotic and increasingly rarified space inhabited within our consciousness as a condition of the natural.
In an inverse manner through which the milieu of institutional science quantifies and structures sensory experience and manifests comprehensible phenomenon (phenomenon structured), my work takes systems and matrices and de-natures them to explore the emergence of estranged (strange) physical events (structured phenomenon). Seeing the body as the instrument through which an experience of the natural must be defined, but given the alienating technological condition under which our bodies exist, a paradox emerges that complicates a connection to this 'other' nature and a state of flux emerges in which objects and phenomena may slip between variable natures. As elusive as the Andean pygmatic shrew, it would seem that any pre cognitive state that (living matter) inhabits is quite invisible and an engagement instead with an idea, a construction of the natural becomes a worthy project.
Through my fascination and willful search for these states of strangeness, I work to find wonderful qualities in the banal. This work is a process is a reconciliation of sorts, as I attempt to amplify the seemingly transparent but permeable technological skin that is forever present as we negotiate the world that surrounds us. It is through this mechanical membrane that I believe my work operates most effectively, to play at animating quiet, hidden properties in small things. Phenomena, still or insignificant, become temporally fluid and patterns emerge with mathematical predictability. Through the presence of simple mechanical or photographic re-animations, a slowness or elevated state of awareness can envelope these spaces where things might become something else.

excerpt from the text Outside In